San Francisco is certainly one of the first American cities that come to people's mind when talking about must-see places. Indeed, the second most densely populated city behind New York, is the third US touristic urban area and deserves its rank.
The City by the Bay can pride itself on having inspired numerous pioneers throughout the American history, and still continues to attract millions of people visiting it every year. With its huge heritage, its multi-cultural atmosphere and its quality of life, SF is a thrilling source of inspiration, whether you go there for history, culture, food, sport or simply for relaxing. Let's have a look on some incentive ways to visit The City.
A CITY OF PIONEERS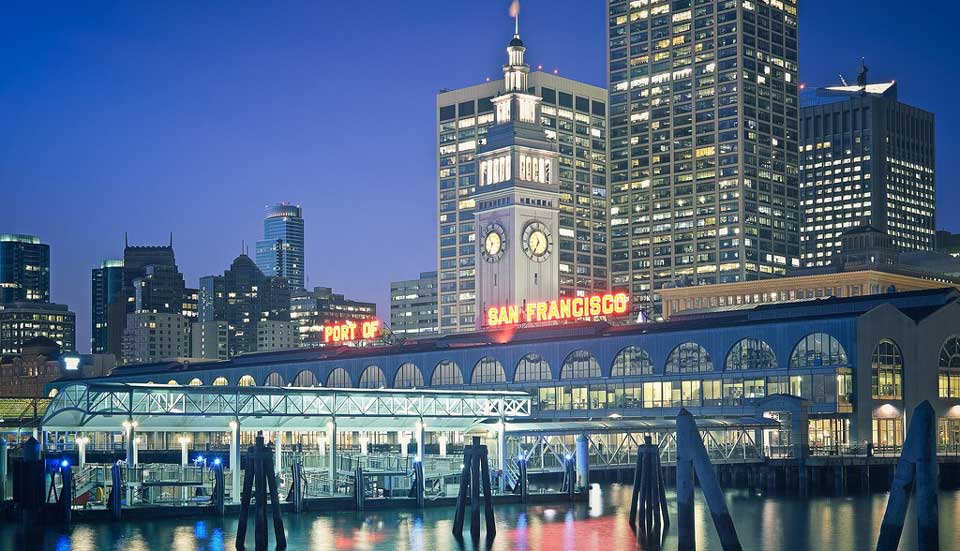 If you are looking for some inspiring stories, San Francisco is plenty of historical sites that recount the rich past of the city and its waves of pioneers.
Founded in 1776 by the New-Spanish explorer Juan Bautista de Anza, the Mission San Francisco de Asis became Mexican in 1821. The first expanded settlement in 1835, called Yerba Buena, began to attract numerous Americans, until the State of California's claiming in 1846. The city finally took its actual name on January 30th, 1847. Mission Dolores is still here to witness SF's early days. You may also visit the Presidio Officers' Club and its Heritage Gallery.
San Francisco really expanded when gold has been found in California's hills in 1848. Until 1855, approximately 300.000 people came to seek fortune, especially arriving by boat in the bay. The San Francisco Gold Rush Walking Tour proposes to rediscover the city through tales and stories about abandoned ships and the 1850s' atmosphere while wandering across the districts. Don't hesitate also to visit the Visitor's Center on Battery Street to get more information about Gold Rush mercantilism and to learn more about another pioneer from this period: Levi Strauss.
The last pioneer era is of course high tech development. Incredible Adventures proposes tours in the Silicon Valley with a San Francisco departure. From Google Campus and Apple Visitors Center to the Computer History Museum, feel the energy emanating from all those inspiring places that are part of our everyday life.
THE GASTRONOMIC APPROACH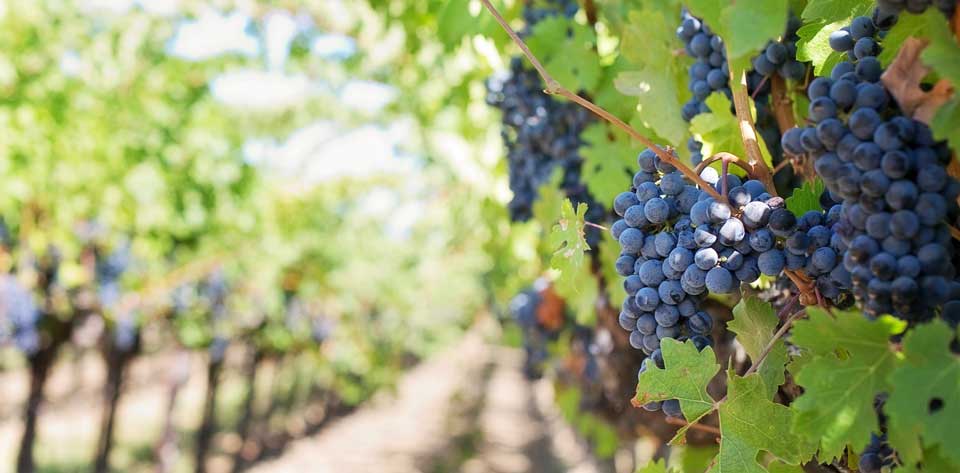 Thanks to its multi-ethnic and multi-cultural population, San Francisco offers plenty of food tours and numerous restaurants (almost 3.500) that may inspire your next buffets. You may find nine farmers markets in The City, including the San Francisco Farmers' Market where famous chefs love to pick up their own sustainable products.
Since you are in SF, you should definitely include in your trip a visit of the close Sonoma and Napa counties. Besides perfecting your tasting skills, California's winemaking history is almost as long as San Francisco's one and its recent history was shaped by very inspiring persons who produce some of the finest world-class wines.
THE VIEWPOINTS' DISCOVERY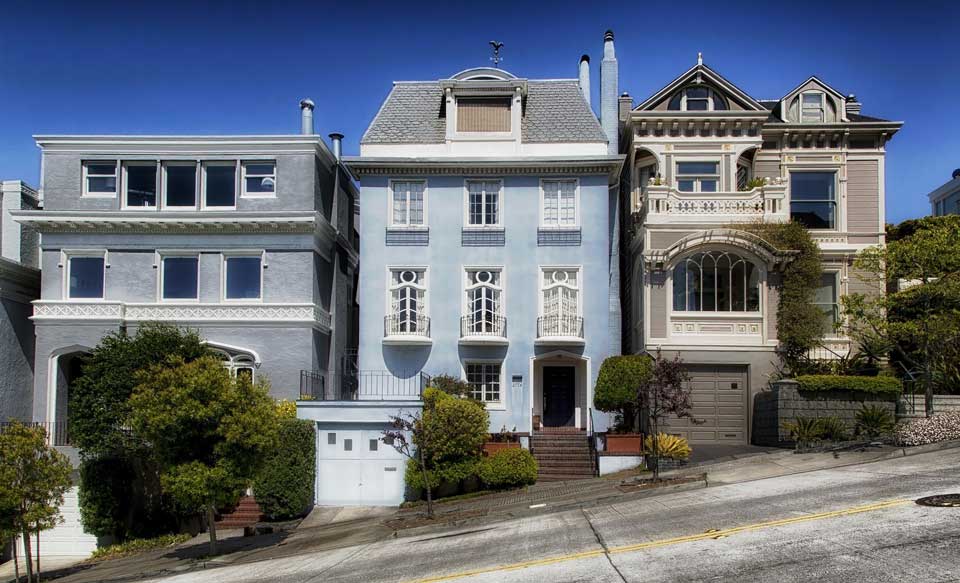 Fog City is actually an inspiring city by itself and by its wonderful landscapes and points of view. Its location and its climate allow sensational and romantic pictures of the fog over the bay, its hills and its skyline. Get full energy while admiring how The City perfectly hugs the bay's figure.
From the inner city, Coit Tower and Twin Peaks Summit remain the best 360-degree panoramas. Grandview Park offers remarkable scenes at sunrise and sunset. You can catch other iconic views from Fort Point on the Golden Gate, from Alamo Square with the Painted Ladies and the skyline, or from the Powell-Hyde cable car line with its great neighborhoods.
From the outer city, the best inspiring views over the bay are probably those from Alcatraz Island and its Downtown view, from the 923-foot-high Hawk Hill in the Marin Headlands, and of course, for the hikers, the unique panorama from the Golden Gate.
NATURAL AND RELAXING SF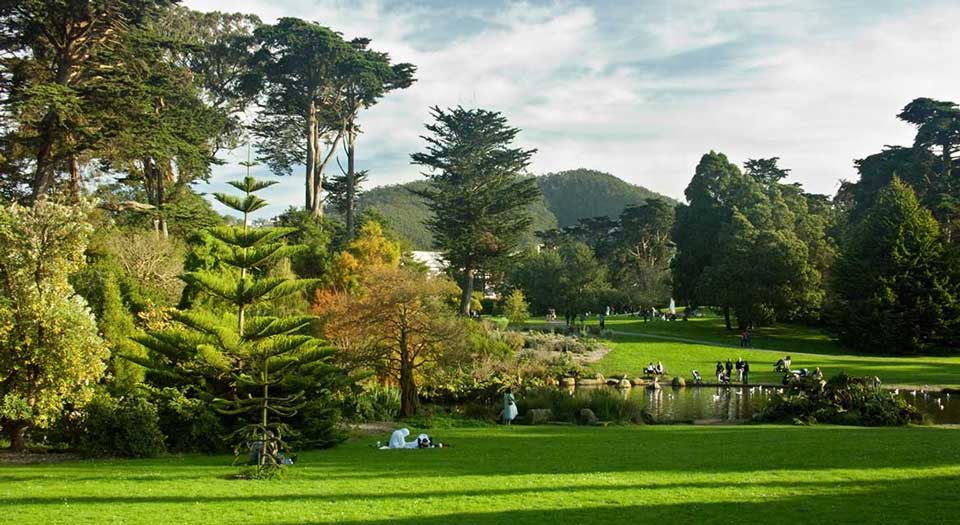 If you are looking for inspiration through nature, you will be glad to learn that San Francisco is home of no fewer than 200 parks. The City has made ecology and sustainability one of its main development prerogatives.
One of the greatest treasures of San Francisco is Golden Gate Park. From gardens to monuments and from lakes to groves, the park offers plenty of activities to take a break and to reconnect with nature. Among the nicest places, be sure to visit the Conservatory of Flowers, the Botanical Garden and the relaxing Japanese Tea Garden.
Presidio de San Francisco is also one of the major green places of the City by the Bay. Transformed into an eco-park, it is divided into 4 main parts – Golden Gate, Crissy Field, Main Post and Southern Wilds -, each of these proposing plenty of activities, from sports to visits and from the beaches to the lakes. But you may also go for the SF' oldest public park opened in 1867: Buena Vista Park.
The ultimate relaxing experience might be spending a night in The Inn Above Tide. The luxury hotel, located in Sausalito, offers one of the best views over the whole bay and is accessible by ferry. You will definitely appreciate the tranquility of this retreat in front of the sea.
LET'S HAVE FUN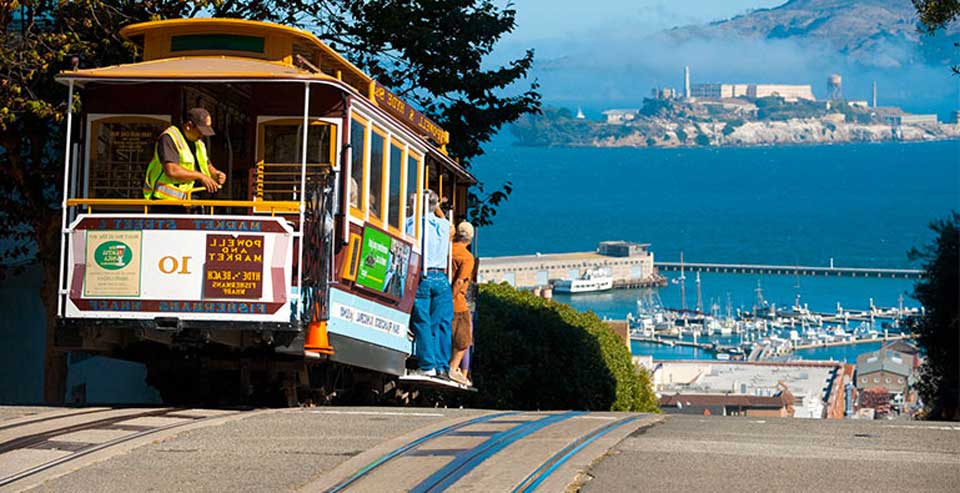 It is impossible to sum up all the great activities that you may find in San Francisco. Nevertheless, here are some examples of pretty unusual things you may experience to find inspiration for teambuilding sessions, or just for fun.
Among these, Church of 8 Wheels is for sure a must-see. Roller-skate fans and amateurs meet in this roller disco, located in a former church from Lower Haight. The very affordable club opens on every Fridays and Saturdays.
If ever you are visiting SF on Easter Sunday and come to wander in Potrero Hill, don't miss the funniest event organized on that precise day: the "Bring Your Own Big Wheel" race. Big Wheels going down Vermont Street, SF's curviest street, is a complete unusual thing that you may either watch, or being part of.
Finally, you may gain height and end your Fog City's visit by the air. Viator Seaplane flights and hang-gliding clubs propose to discover the bay from a sky point of view, a definitely worthy experience. Get blown away by the stunning panorama and try to review all the places you have visited during your stay.