Our Latest Fall VIBES
And then the year was almost gone… just like that. It was yet another challenging year, but we are finally seeing the light at the end of the tunnel. We are certainly looking forward to a more light-hearted, healthy, and prosperous year for all. Until then, let us share a few of the trends we've seen, a tip to keep engagement high for your next digital or live events, and of course, a recipe to keep your heart warm!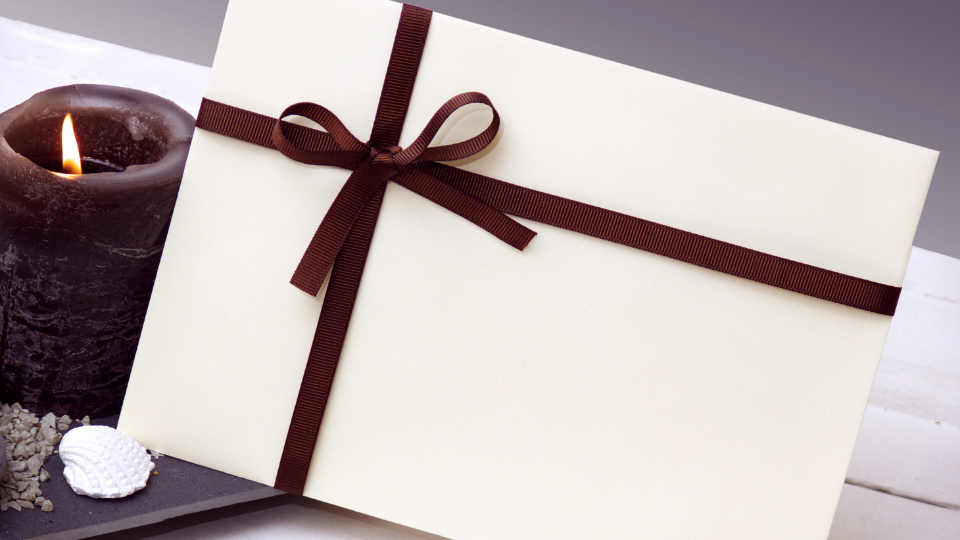 Tis the Season: A Corporate Gift-Giving Guide
There are only a few weeks until the month of December begins, which means right now is the best time to start thinking about your company's yearly corporate greetings and or gifts.
But, before you run out to buy a bottle of wine, box of chocolates, or look into more creative gifts, it's a good idea to consider some of the etiquette around corporate gift giving. After all, you want to build relationships with a thoughtful gesture, not damage them because of overlooked details.
First, depending on the size of your company, make certain to check with your HR department to make sure there aren't rules against gift giving that would apply to your division or location. Your HR department will also be able to advise you of any spending limits or other guidelines the company expects you to follow.
Do the same (if possible) for your recipients. Simply ask to speak to an HR representative about their corporate gift policy and be willing to leave a voicemail or email for the correct contact.
Assuming gift giving is allowed by your organization, do some due diligence into your current business activities – particularly those associated with bidding or vendor relationships. In many cases it is against the law to send gifts to decision-makers who may be awarding contracts, as it may be seen as a bribe. Even if that isn't the intention of your gift, it's better to avoid giving it at all and not have it taken the wrong way.
Some of the best gifts are those that do not require wrapping – Charitable donations made on behalf of your intended recipient are both thoughtful and appreciated. As well, your company can benefit from tax deductions, even if you honor someone else with the gift. To get extra mileage out of the donation, make your gift towards one that aligns with the recipient or their company, or, if possible, to the charity with whom they're already partnered.
Lastly, if you're going to be great at giving corporate gifts, you need to be equally gracious about receiving them. That means, you guessed it, thank you notes. A simple handwritten note still makes quite an impression in today's digital world. But if you can't get around to putting pen to paper, do at least make sure to send an email to the gift giver and be sure to thank the entire team at their company.
Quick VIBE Tip: Giving Tuesday is coming up on November 30, 2021. Get your gift list ready in time for this #NationalDayofGiving and you could make your donations go further as there are many groups who will double or match donations made on this day. Bonus? You're done with holiday gift giving before December!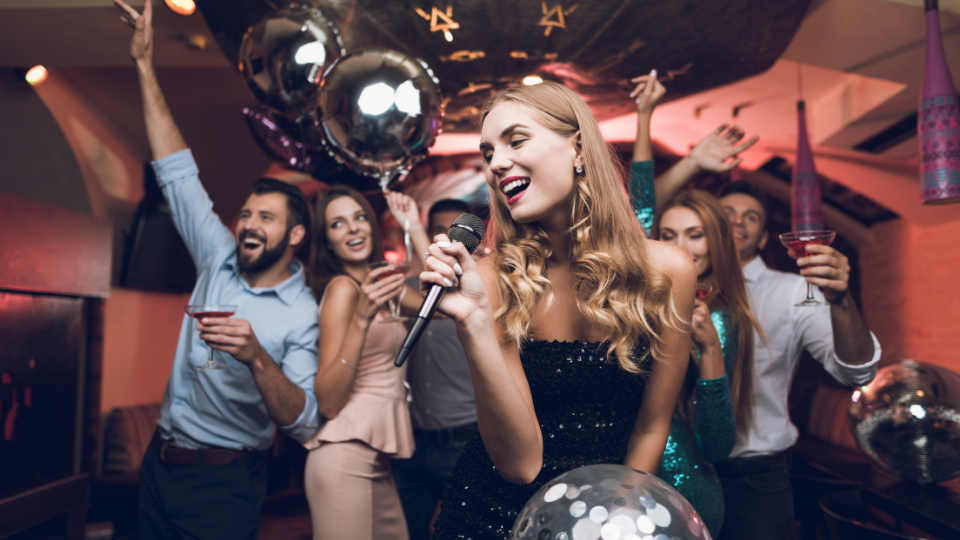 Redefining Engagement
We've come a long way when it comes to measuring the performance of an event. Attendance used to be one of the most important metrics, followed by online feedback, and media appearances. Today, however "Engagement" is the ultimate goal for gatherings – which is simply wanting guests to interact and connect with the brand experience as much as possible. Think of it as the difference between watching a sporting game as a spectator vs. getting to take the shot from mid-field at halftime. Both people enjoyed the event, but one was engaged in it as a participant.

As digital and hybrid events are likely to remain popular for a while, engagement can be slightly challenging to figure out in ways that involve the entire audience (especially when the audience is split between in-person and face-to-face). At VIBE, we've been successfully using a number of different approaches to engagement.
Poll Position: Ideal for in-person and digital audiences alike, a quick audience poll can serve as a great icebreaker and also a good way to check in on training sessions, product launches, and new campaigns. Answers are up and tabulated in seconds and are great visual elements. Provide hand-held buzzers or app-based responses for in-person attendees and let remote audiences participate online.
Health & Wellness: These days, it seems like everyone could use a chance to unwind and release themselves from stress. Why not consider a guided meditation for your in-person and at-home attendees? Other ways to incorporate health & wellness include a yoga or stretching session, aromatherapy oils, candles, or hand-held massage balls.
Picture This: Whether you called it Win, Lose or Draw or Pictionary, the artistic team guessing game is a fun way to get in-person and digital audiences united in the same fun experience. Look at existing games like Drawful that lets players draw on their cell screens or digital devices or create your own experience with an interactive drawing or paint application.
Lip Sync and Karaoke Battles: These were practically made to entertain multiple types of audiences and the digital integration of backgrounds or even avatars to represent singers makes for a seamless activity across multiple platforms.
It's Magic: We've all gotten so used to watching magic on TV specials throughout the years, we've almost forgotten it can be just as amazing in person. When it comes to connecting digital and remote audiences, make sure to use your live attendees as audience volunteers and then use digital guests for more mind-reading-style illusions.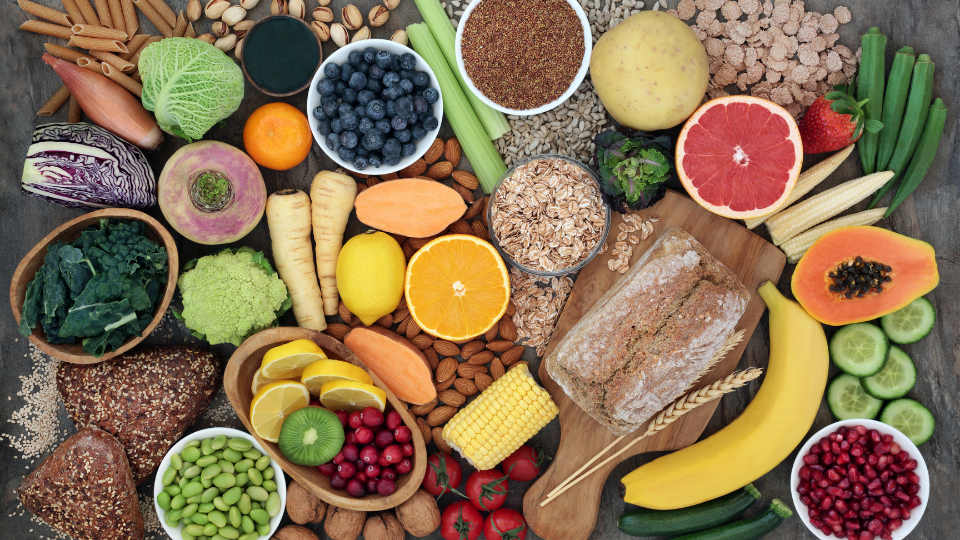 Forward-Thinking Food & Beverage: What's Now and What's Next
At the heart of all successful events and gatherings you'll usually find tasty, innovative, memorable food & beverage offerings. But the entire landscape of food & beverage goes well beyond the recipe – it also includes presentation, experience, and even technology. Here are a few of the latest trends to be aware of when planning your next fete.

TREND #1: Plant-Based
The leading edge of the culinary and mixology fields is surprising and exciting people about the possibilities of plant-based food and drink. From celebrity chefs to elite catering companies, plant-based options are accounting for more and more of the available menu. Part of it is driven by strong consumer demand for corporate social responsibility (CSR) since plant-based items are typically produced with a much smaller carbon footprint and avoid any issues related to animal ethics. The other part is practicality – with plant-based foods delicious enough to delight any palate, menu planning becomes simpler as it no longer means having vegan or vegetarian alternatives alongside meat-based products.
TREND #2: Cash-Free
One of the best things to come out of the pandemic is how quickly people adopted cash-free payment systems. The latest systems go far beyond Square apps and readers (though those are still great options) and can offer integrated digital touch screen menus, automatic tip calculation, and even the ability for patrons to re-order from an app on their own phones rather than looking for a server or bartender. Best of all, cash-free systems allow service staff to work much more quickly to serve more guests (goodbye long lines at the bar!)
TREND #3: Non-Alcoholic Alternatives
While everyone loves the "pop" of champagne, there's a growing audience that would rather have sparkling grape juice or a hand-crafted "mocktail" instead of the traditional boozy counterpart. Appealing for everyone to the health conscious, to younger markets that aren't quite drinking age, to family-friendly events where guests can bring children, consider some hand-muddled "No-jitos" with fresh mint, simple syrup, and a refreshing splash of club soda – without the rum. (Bonus: you don't have to limit your caterer or venue selection based on liquor licensing).
TREND #4: One-Bite Wonders
Anyone who's ever walked around looking for someplace to put an empty plate at an event can tell you – there's a difference between "small" hors d'oeuvres and true one-bite culinary masterpieces. Genius chefs are practically creating mini eight-course meals meant to be enjoyed a single taste a time, with no more than toothpick or cocktail napkin. What's driving the trend? People want to remain social without having to be seated next to someone for an entire plated dinner or served buffet. Likewise, outdoor spaces lend themselves better to smaller passed trays of treats as opposed to running back and forth from the kitchen.

VIBE is always on the lookout for the future tastes and sips. Ask our team how to revolutionize the menu for your upcoming event.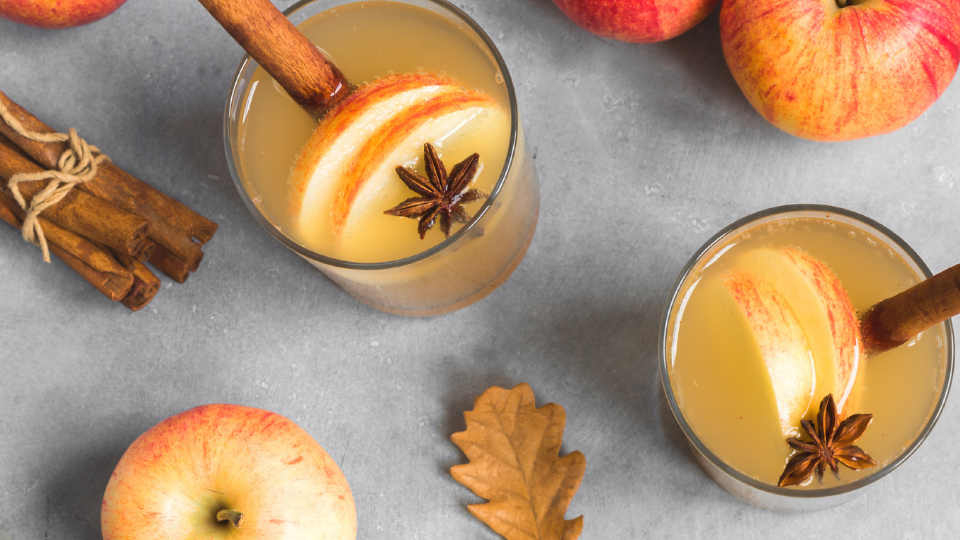 Hot Spicy Cider*
This is one of our favorites at the Vibe… Prelude to the holiday season, this tasty fall treat will make your home smell like autumn and is a quick way to keep your heart warm and spirits high!

Ingredients for 5-6 servings
4 cups fresh apple cider
4 whole black peppercorns
6 or 7 (2 to 3-inch) cinnamon sticks
3 whole dried cloves
1 star anise
1 navel orange
Good bourbon, such as Maker's Mark (optional)
1 crisp red apple
Instructions:
Include in a medium saucepan the apple cider, peppercorns, one of the cinnamon sticks, the cloves, and the star anise
Cut a large (1 × 4-inch) peel from the orange using a vegetable peeler and add it to the pan.
Bring the cider mixture to a boil, lower the heat, and simmer for 5 minutes. Strain into a 4-cup glass measuring cup and discard the solids.
Pour the hot cider into mugs
Add 2 tablespoons bourbon to each mug.
Cut the orange in half through the stem, slice crosswise in ¼-inch-thick half-rounds, and add one slice to each mug.
Cut the apple in half through the stem, remove the core, slice crosswise in ¼-inch-thick half-rounds, and add one slice to each glass.
Serve hot with a cinnamon stick in each glass for stirring.

*special thanks to Ina Garten, Barefoot Contessa.
About the VIBE Agency: The VIBE Agency is a Miami-based award-winning full-service production agency that specializes in the creation and orchestration of live and virtual experiences for the corporate industry.
The agency is forward-thinking and was recognized as one of the 50 top event companies by Special Events magazine in 2019 and 2020. If it can't be live, make it VIBE!