Our Latest Fall VIBES
As we come to the close of an unusual and challenging year, we wanted to take the opportunity to share some successes, ideas for the rest of this year and 2021, and some positive thoughts.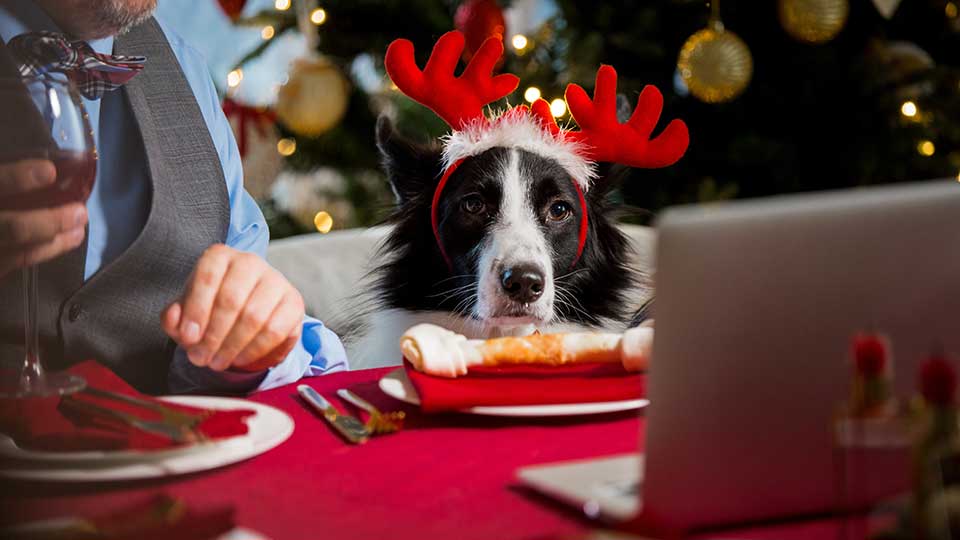 Unique Holiday Gatherings for 2020
Everyone's been asking us what they should do this year in regards to holiday parties. Many offices are still working remotely, and banquet halls and other venues are observing maximum capacity limits that make traditional get-togethers difficult to organize or simply not feasible. But before you cancel holiday celebrations, consider a few creative ideas.
A Digital Holiday Sing Along/Dance Challenge: Use the power of Zoom and/or TikTok to put together some holiday music favorites that can be shared remotely or in a hybrid fashion. Prizes for winners, digital gift cards to Amazon or other retailers, and an online photo booth can all bring the same fun-loving holiday spirit to life for everyone on your team, anywhere they are.
Seasonal Volunteering Project: The holidays are a great time to give rather than receive, and a number of organizations have both digital and safe in-person volunteering activities to help bring teams together and make a positive impact in the name of your business or brand. Sharing results also serves as a great holiday card for your customers and contacts, as well as an excellent PR opportunity.
Surprise Dinner & a Holiday Movie: Give your employees and team members a happy night in with family and friends by sending a digital holiday party invite that includes a redemption code for ordering snacks or treats from UberEats or a similar provider, as well as a free movie on Amazon or other streaming service. Provide a hashtag or url where people can post their at-home gathering – or even offer an Instagram filter for extra fun.
These are just a few of the ideas VIBE can help make happen for your holiday party – and we also have a number of solutions and technologies for hybrid events and safely social-distanced in-person gatherings. The secret is to get started planning now so you have the greatest number of choices available.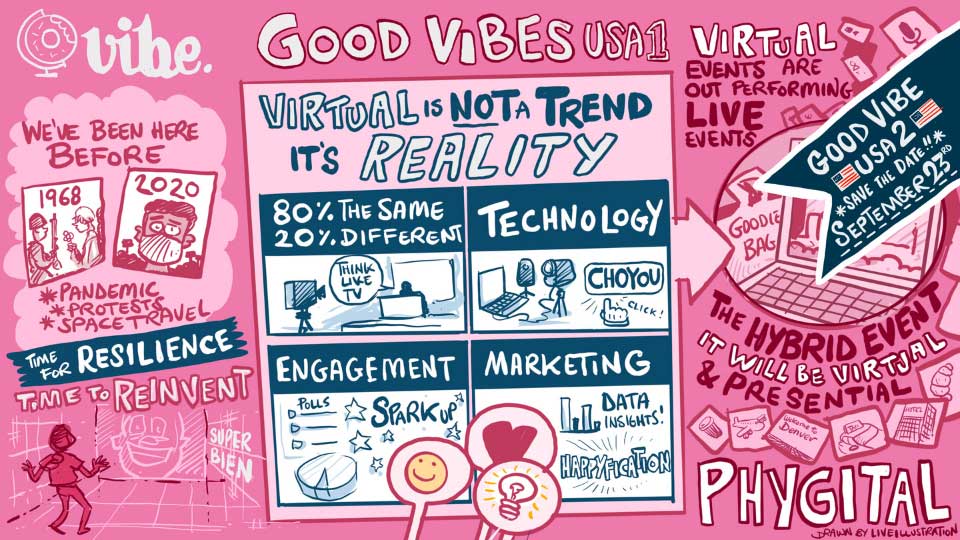 Good VIBES x 2
One of the biggest successes for us this year were two digital events we hosted about the state of the event industry and how to continue making important connections even when in-person interactions are limited. We called the series Good Vibes and we hosted one meeting for our European partners, and another for our U.S./Latin America partners. All together, Good Vibes 1 and Good Vibes 2 were attended by over 400 people who tuned in to hear from our expert presenters to learn more about digital engagement, technology considerations, hospitality and planning, and budgeting for virtual and hybrid events.

Feedback to both events was excellent. Participants told us they now feel they have a clearer path for navigating the marketing and events landscape ahead, how to respond to changes, and making sure to protect and even grow market share in our increasingly digital world. Our hope is to bring you more events and resources like this in 2021, so stay connected with us to make sure you're among the first to know when our next Good Vibes-style event is taking place.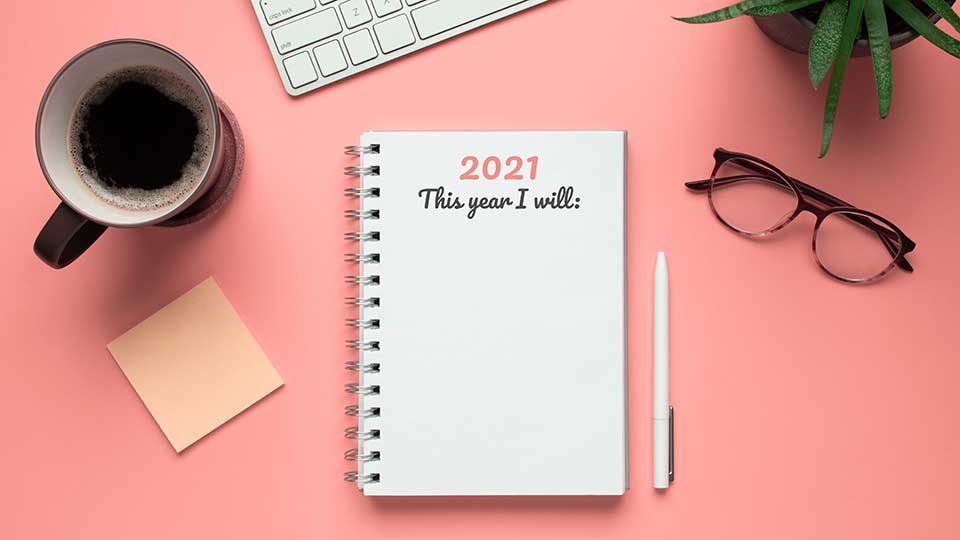 Jump-starting New Business in 2021
After the many stops and starts of 2020, we know you're all looking at 2021 as a year to reclaim lost business and further grow markets where you can. Here are a few strategies that might help you start the year on the right foot (many of these we've been using ourselves with great success, and we'd be happy to assist in getting you started).
Build New Digital Sales Tools: Your salespeople have been doing a lot via phone and zoom these days, but if your marketing materials are typically based in print or static web pages, now is a great time to rethink what can help your teams close more deals in the digital space. Presentations that are optimized for Zoom, screen sharing, or that have interactive elements that can customize things like colors, pricing, or other variables unique to your prospects ensures your products and services stand out compared to your competitors' offerings.
Get Comfortable with Webinars: Traveling for in-person sales calls is not going to be the same as it has been in years past. However, it could be even better if you and your team start hosting regular webinars. These could be product demonstrations, side-by-side comparisons, a look inside your manufacturing, customer service success stories, sneak previews of upcoming services, or even a launch of a new website or resource. The key is to invest a little up front in professional-grade production that feels more like a TV show or TED Talk, and try to organize shooting for several webinar episodes during a single day or two-day filming session to maximize your budget.
Host Customer/Client Focus Groups: The best way to figure out what your clients want is often just to ask them. You can start with online surveys, but think about following up with digital conversations for select people in your audience. You can even isolate portions of your market you want more insight about – like 20-somethings, or retirees, or single professionals. Make sure you're using tools like SparkUp (one of our favorites) to collect responses and keep people engaged as you go.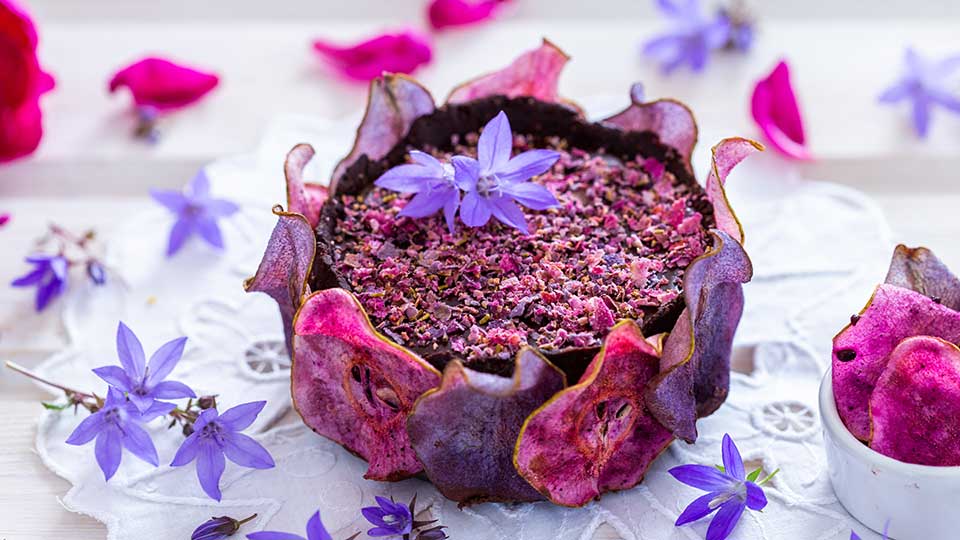 A Tasty VIBE
Two of the season's most iconic fruits – pears and cranberries – come together in a simple, no-frills pastry that anyone can make. "Crostatas" don't need fancy lattice work or crust work, and the juiciness of the two fall fruits make this a perfect dish for taking to holiday celebrations (or just enjoying at home).

Ingredients:

Crust:
– Frozen pastry sheets – Ideally 2 sheets
– ¼ cup granulated sugar
Filling:
– 3 pounds Bosc pears (this is about 4-6 medium-sized pears)
– ½ teaspoon grated orange zest
– 2 tablespoons dried cranberries
– ½ cup all-purpose flour
– ½ cup granulated sugar
– ½ teaspoon kosher salt
– ½ teaspoon ground cinnamon
– ¼ teaspoon ground allspice
– ¼ pound (1 stick) cold unsalted butter – diced
Instructions:
Preheat the oven to 450 degrees.
Roll each pastry sheet into an 11-inch circle on a lightly floured surface. Transfer them to 2 baking sheets lined with parchment paper.
For the filling, peel, core, and quarter the pears. Cut each quarter into big chunks. Toss the chunks with the orange zest. Divide the pear chunks between the pastries, covering the dough and leaving a 1 1/2-inch border. Sprinkle 1 tablespoon of cranberries over the top of each tart.
Combine the flour, sugar, salt, cinnamon, and allspice in the bowl of a food processor fitted with a steel blade. Add the butter and pulse until the mixture is crumbly. Pour into a bowl and rub it with your fingers until it starts holding together. Sprinkle evenly over the top of the two tarts. Gently fold the border of each tart over the pears, pleating it to make a circle.
Bake the crostatas for 30 minutes, or until the crust is golden and the pears are tender. Let the tarts cool for 5 minutes, then use 2 large spatulas to transfer them to wire racks.

*special thanks to Ina Garten, Barefoot Contessa.


About the VIBE Agency: The VIBE Agency is a Miami-based award-winning full-service production agency that specializes in the creation and orchestration of live and virtual experiences for the corporate industry. The agency is forward-thinking and was recognized as one of the 50 top event companies by Special Events magazine in 2019 and 2020. If it can't be live, make it VIBE!