'Tis the season for sandals, out-of-office notifications and work-from-home Fridays—hooray for summer! But just because half the country, it seems, is on vacation, doesn't mean the VIBE Agency is slowing down. Quite the contrary, in fact, as we have a full roster of events on the horizon that we're working like busy bees to plan, while squeezing in as many travels as we can to scout out the trendiest destinations for you.
To get you in the mood for all things summer, we've rounded up many fun ideas—like the most refreshing idea for a summer cocktail party, some of the most fun adventure parks for teambuilding and even cool ways to switch up seating for alfresco events. Plus, don't miss a recap of one of our favorite events to date this year: a product launch in beautiful Cancun.
Read on for fun-in-the-sun inspiration, and stay cool out there—don't forget sunscreen!
EVENT SPOTLIGHT: COTY IN CANCUN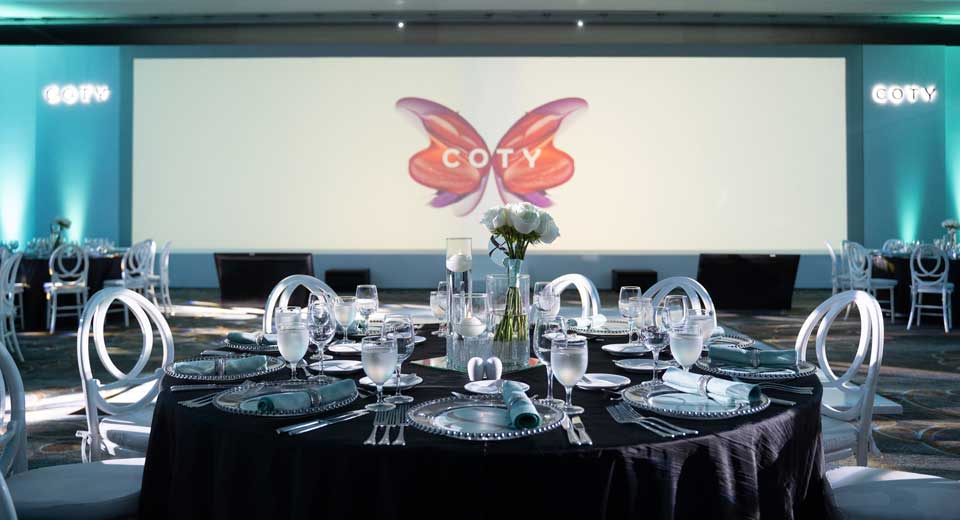 In April, we headed to Secrets The Vine all-inclusive resort in Cancun for a 4-day event for global beauty company Coty. All 105 attendees—who were mostly women in their mid-30s traveling from South and Central America—couldn't get enough of the cerulean ocean views and white sandy beaches.
This product launch event focused on educating beauty advisors about Coty's latest products and the latest selling strategies. To kick off the event, we planned a welcome party with a Mexican theme, which gave attendees a true sense of the place and got them excited for the next few days.
Training sessions filled each day, yet several special activations took center stage when it comes to memorable moments. One of those was a Gucci dinner held at Sea Salt Grill. Creative dinner décor this evening centered around a memory theme, and as such, each guest received a nametag with her baby photo printed on it. While obtaining these images proved to be a bit challenging—we collected them all through emails and USB drives—they were a huge hit among guests.
Coty also asked us to create beautiful showrooms to demonstrate new perfumes, including Hugo Boss and Gucci. To go along with this, Coty coordinated entertaining workshops, such as creating your own perfume bottle using a pair of boxers (a little wild, we know, but fun!) and word games. There was also a special presentation by Calvin Klein, which included a surprise appearance by several models, and an elegant gala ballroom dinner that centered around a love theme in partnership with Tiffany & Co.
Overall, this Cancun event was another success for us. "It's a little bit of a Miami extension," says Valerie Bihet, our very own CEO who managed this event. "It's very Americanized, with resorts everywhere, English spoken widely and very thorough security at the hotel."
Click here for the exclusive video of the event
COOL VIBES: 5 POPSICLE RECIPES FOR A SUMMER COCKTAIL PARTY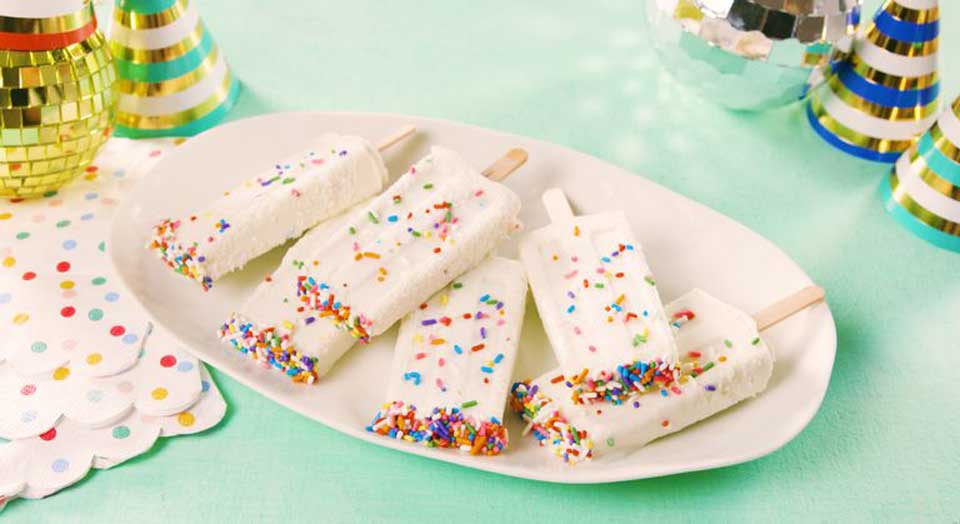 1) Prosecco Pops Combine drinks and dessert in one fun treat
½ c. strawberries, sliced
½ c. blueberries
½ c. raspberries
1 bottle Prosecco
Pink lemonade
Lemonade
Divide fruits between two popsicle molds (12 total popsicles). Fill each popsicle mold three-quarters full with Prosecco. Fill molds to top with lemonade of your choice and insert popsicle stick. Freeze six hours, or until frozen.
2) Cake Batter Pops A perfect stand-in for ice cream for dessert
1 box Funfetti cake mix
2 ¼ c. whole milk
¼ c. whipped topping
¼ c. rainbow sprinkles
In a large bowl, whisk together cake mix and milk until smooth. Add whipped topping and whisk until just combined. Add a pinch of sprinkles to the bottom of 20 pop molds. Divide mixture between pop molds, insert popsicle sticks, and place in freezer until frozen, six hours or overnight.
3) Strawberry Mojito Pops A colorful twist on a refreshing summer beverage
½ c. rum
¾ c. chopped strawberries
2 c. limeade
4 oz. fresh lime juice
8 mint leaves, chopped
Mix all ingredients together then evenly divide mixture into six popsicle molds. Chill popsicle molds in freezer for about 20 to 30 minutes or until liquid is slightly frozen. Add wooden popsicle sticks and freeze overnight.
4) Pickle Pops Talk about a conversation piece
2 ¼ c. pickle juice
1 T. granulated sugar
½ c. pickle chips
In a large liquid measuring cup, whisk together pickle juice and sugar. Place a few pickle chips in 10 popsicle molds, then pour in pickle juice mixture. Cover and add popsicle sticks. Freeze until solid, about four hours.
5) Bloody Mary Pops The perfect brunch addition
2 c. tomato juice
2 oz. vodka
2 T. Worcestershire sauce
1 T. pickle juice
2 tsp. hot sauce (such as Tabasco)
Juice of 1 lime
10 celery sticks, cut 4″ in length
¼ c. flaky sea salt, for garnish
2 tsp. Old Bay seasoning, for garnish
In a large liquid measuring cup, whisk together tomato juice, vodka, Worcestershire sauce, pickle juice, hot sauce, and lime juice. Carefully pour mixture into 10 popsicle molds, then insert a celery stick into each pop. Freeze until solid, about six hours. Run warm water over molds to loosen popsicles. Sprinkle each popsicle with flaky sea salt and Old Bay, then serve immediately.
Credit to Lena Abraham
DESTINATION: 5 BEST ADVENTURE PARKS FOR SUMMER TEAMBUILDING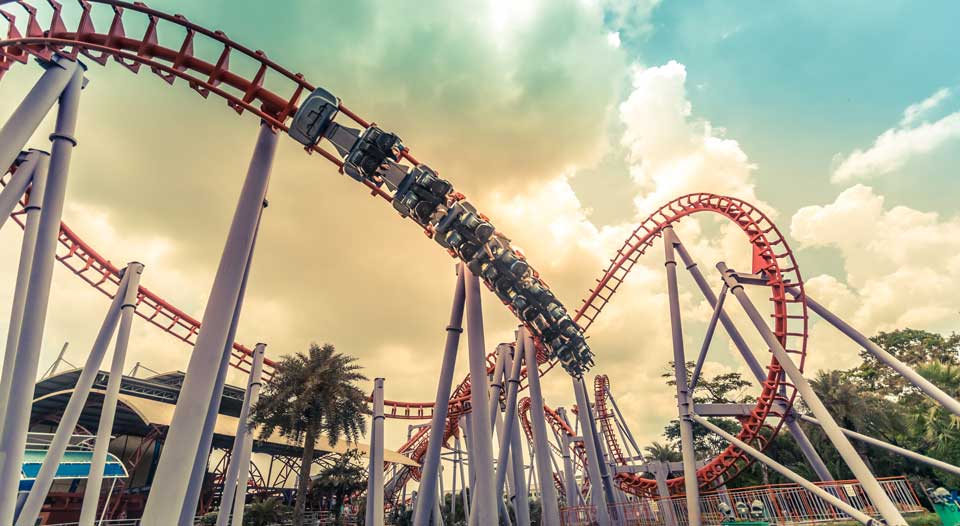 Break out of the meeting room and head outdoors for an exhilarating day of team building (and meetings, if you so choose) at one of these five parks around the U.S.
Dollywood
Nestled into the Smoky Mountains of Tennessee, Dollywood has rides, activities and attractions to suit a wide variety of interests in a group. Whether you want to take in a musical performance, try some of the latest culinary offerings (don't miss the hot-from-the-oven cinnamon bread) or go big on the Wild Eagle roller coaster, anyone is sure to have fun here. Find accommodations in Dollywood's DreamMore Resort.
Knott's Berry Farm
This popular park in Buena Park, California, offers a teambuilding activity called "The AppMazing Hunt" that's packed with destinations, roadblocks and challenges to encourage teams to work together. Think of it as the TV show The Amazing Race, but a little less intense to pass corporate guidelines. There's also a 320-room full-service hotel on-site with 20,000 square feet of meeting space.
Silver Dollar City
Located in Branson, Missouri, this amusement park has more than 40 rides and attractions, along with many shows, shops and restaurants. Groups can reserve theaters for meetings or shows, as well as book out rides or entire ride areas, and gain access to the park before or after hours for a more exclusive experience. There's no on-site hotel, but plenty of affordable options nearby.
Universal Orlando Resort
While there's myriad ways to entertain groups in this massive park, anyone who's even a passive fan of Harry Potter is sure to be enthusiastic about two lands built around the character: The Wizarding World of Harry Potter – Diagon Alley, as well as the Hogsmeade. You'll feel the magic from the moment you step into each world, and a thrilling new roller coaster just opened in June.
Busch Gardens
Adventurous types will want to go wild on roller coasters like the Wild Surge drop tower, but you can also set up more low-key experiences at this Tampa, Florida, park, such as a scavenger hunt that incorporate your company's goals. Hungry? You can arrange massive picnics here, complete with unlimited buffet menus. Consider combining a trip here with a retreat to the iconic Don Cesar Hotel, 40 miles away
DÉCOR TRENDS: 5 FUN SEATING IDEAS FOR OUTDOOR SUMMER EVENTS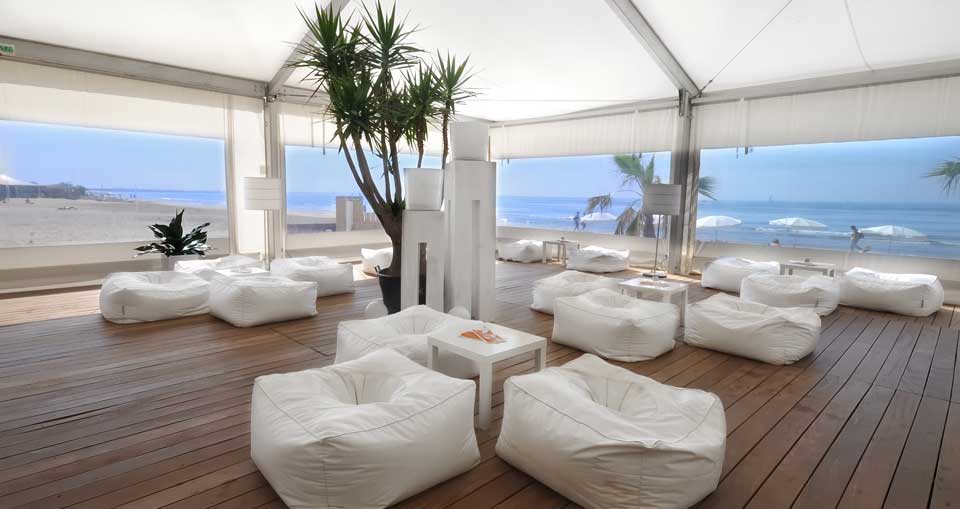 Chiavari chairs have their place, and they certainly can make any formal event look gorgeous. However, if you're going for a more casual vibe, here are some light-hearted options to take the place of traditional seating outdoors.
Sofas
If you're having an intimate event in a destination where rain is out of the question, consider bringing out some beautiful upholstered sofas out onto the lawn. It makes for comfortable seating that's also highly Instagrammable, and it's easy to match the color scheme to your corporate colors.
Hammocks
OK, so this is for a really informal event—but think of the fun your guests would have lounging in hammocks! Some companies even make larger hammocks, that hold up to three people and set up easily on a stand. Ensure you have other seating options available, too, if you'll have women wearing skirts and dresses to the event.
Bean Bags
Not just for a teenager's room anymore, giant bean bags are becoming more standard options from event furniture rental companies. They're easy to kick back and relax on; can be shaped into any form you desire; and are also available in a wide variety of colors to suit your event's palette.
Illuminated Furniture
Summer events don't have to stop when the sun goes down—in fact, those late-night fetes can be some of the most fun. Turn things up a notch by using illuminated furniture in your outdoor party space, such as sofas, chairs and ottomans.
Adirondack Chairs
Even if your event guests may wish they were on vacation at the beach, setting up an assortment of Adirondack chairs (complete with colorful pillows) is an easy way to do double duty putting them at ease and serving a functional need for your event. Add an ice cream cone bar for the full effect.