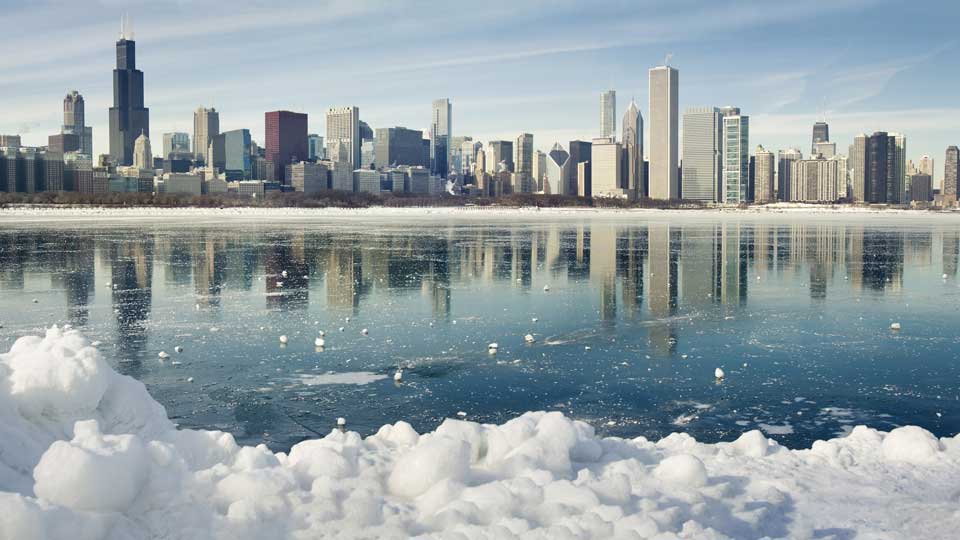 21 May

10 Most Instagrammable Places in Chicago

When you visit a city like Chicago, it's easy to want to capture photos of everything—from Lake Michigan to the Chicago River to all the incredible restaurants around this Midwest metropolis, there are so many moments you'll want to remember. We talked with a local Chicagoan to get an insider's perspective on the best spots to Instagram while you're visiting. You could even share this list with your meeting or conference attendees and make a contest out of it, rewarding the person who snaps and posts the most locations from this list. Happy 'Gramming!
Michigan Avenue Bridge
Any spot along Michigan Avenue will provide a pretty picture, especially during spring when the tulips are in full bloom. The shot you can capture adjacent the Wrigley Building and just north before the Michigan Avenue Bridge begins, however, is a must for any visitor. With a little photo editing, you can even make the river look a pretty greenish blue!
Tuco & Blondie
A quaint area just north of downtown called Southport Corridor has many colorful art pieces adorning the sidewalks and buildings, yet none so Instagrammable as the mural on the north-facing wall of Mexican restaurant Tuco & Blondie. Grab a vanilla soft-serve cone before you snap a summer selfie in front of it.
The Bean
Locals like to say the The Bean is for tourists only, but truth be told, most of them can't resist the opportunity to snap a selfie in front of this mirrored marvel, either. There are so many angles to capture, you might as well try them all—streetside, lakeside and even underneath all provide a different POV for your Instagram feed.
Cindy's Rooftop
You'll have to fork over serious cash for the cocktails at Cindy's Rooftop, but without a doubt, this gorgeous restaurant and bar atop Chicago Atlehtic Association Hotel offers the city's best views of Lake Michigan and Millennium Park. Make sure you go on a sunny day, when the natural light illuminates the historic architecture.
Chicago's Home Mural
If you didn't get a photo in front of Chicago's Home Mural, did you even really visit? This vintage postcard-inspired art piece is located in between Chicago's Bucktown and Logan Square neighborhoods, an easy walk from a Blue Line train stop if you're staying downtown and want to pop over for a pic.
Chicago Riverwalk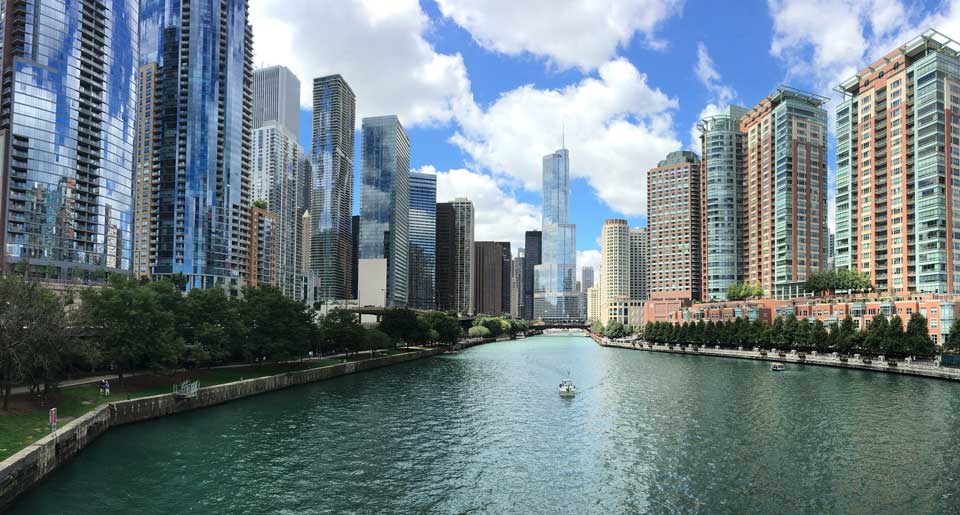 Come warm weather, Chicago Riverwalk—which has undergone a massive transformation in the last few years, thanks to a major investment in its development from the city—is the place to see and be seen. Watch the boats and architecture tours float by as you relax with a cocktail and perfectly frame up the sunset in your camera.
Wrigley Field
Even before the Chicago Cubs took home the title of World Series Champions in 2016, Wrigley Field was an icon. In the last few years, the updates and improvements to the area have made the field even better, with the marquee sign out front making the perfect backdrop for an Insta snap.
3 Arts Club Café
You might not expect a furniture store to make any must-visit list. Yet this café inside Restoration Hardware is one of the most stunning restaurants in the city, complete with a massive chandelier, trees and tons of natural light—making photo ops necessary. No matter what table you're seated at, you're sure to get a beautiful shot.
Sky Deck Willis Tower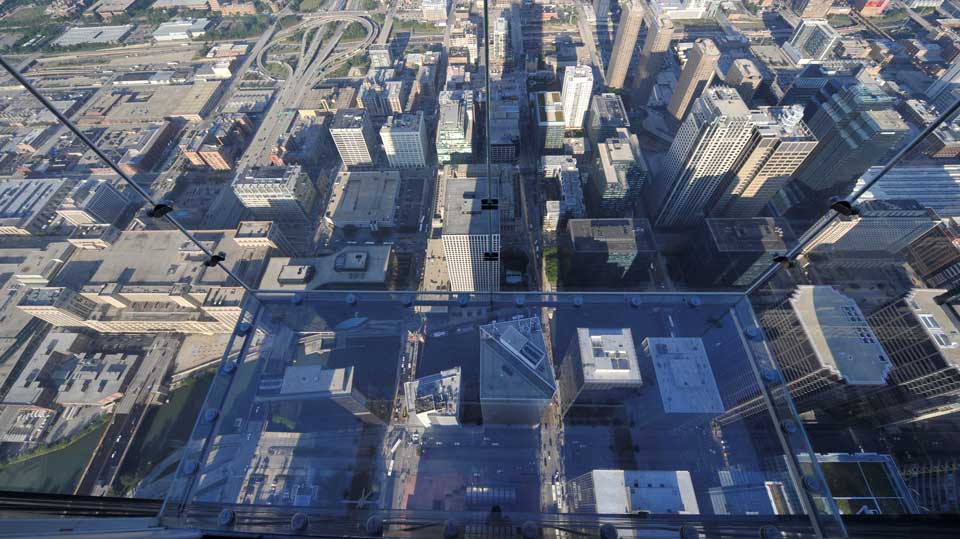 Those brave enough to venture out onto the transparent ledge that sits 1,353 feet above Chicago will be rewarded with an Instagram image like no other. A simple standing pose is cool, but you get bonus points for laying down, doing a yoga pose or even jumping high into the air while standing out on the platform.
Goddess & The Baker
From the boldly tiled floors to the delectable rainbow cake slices, foamy lattes and giant neon "Eat, Now Caffeinate" on the back wall, this downtown bakery, lunch spot and coffee shop has Instagram moments to fill your entire feed. Even better: All the food and drinks here tastes as good as it looks, so order away—you're doing it for the 'Gram, after all.
Did you know The Vibe Agency is on Instagram? Follow us @thevibeagency for plenty of meetings and events inspiration from around the world.
You Might Also Like